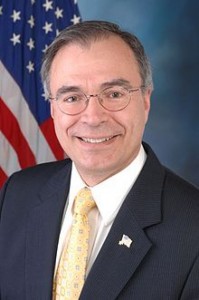 Joe Steffen reported the underage drinking scandal in Andy Harris' office first, then I wrote about it here at Inside Charm City. After it was reported here, FishbowlDC, WBAL-AM, Patch, The Baltimore Sun, and various other news outlets picked the story up.
Let's recap the events of today related to this story.
Steffen reports that an underage intern in the office of Rep. Harris last summer was dismissed early from her internship program due to getting drunk at a going away party thrown for her in the Harris office. Steffen reports that Harris Chief of Staff Kevin Reigurt procured the alcohol consumed by the underage intern and that when she was dismissed from her program, Reigurt made a scapegoat out of another staffer, Laurel Schmuck (daughter of Peter Schmuck), who Steffen said was fired. Steffen also reported that Peter Schmuck confronted the congressman over the issue.
The Baltimore Sun reported that:
When the incident was brought to light, Harris, a Republican, disciplined his chief of staff, Kevin Reigrut, though Nawrocki would not say what action was taken.
WBAL Radio reported seemingly conflicting information:
"When it came to Rep. Harris' attention that alcohol was being consumed in the office, he immediately made it clear that no alcohol is to be consumed by any one in any of his offices," Harris spokesman Ryan Nawrocki told WBAL News.

Nawrocki would not say if Reigurt was disciplined, but he does say Reigurt remains Harris' chief of staff.

Nawrocki also told WBAL News that Schmuck was not fired because of this incident.
Was Reigruit disciplined or not? Did the nuance in the differing statements from Nawrocki relate to when he talked to John Fritze of the Sun and when he talked to WBAL?
Both the Sun and WBAL say that Laurel Schmuck denied being fired. WBAL even ran her statement:
"I left Congressman Harris's office in good standing several months after giving notice that I would be accepting a graduate fellowship in California in August. That was my only reason for leaving. I remain on good terms with the Congressman and appreciated the opportunity to work for him."
That appears to be the only comment Laurel Schmuck made on the matter. The other facts as reported by Steffen don't appear to be questioned by Schmuck or by anyone in Harris' office.
Fritze of the Sun goes on to talk about "several" other drinking scandals in Hill offices but manages to only mention one (Rep. Larsen's office) while leaving out the one in Rep. Palazzo's office. I wonder where he got the idea for adding in that tidbit?