A story found in the June 9, 2011 edition of the East County Times bears a striking, almost word-for-word resemblance to a story and photo published earlier by the Perry Hall Patch.com site.
Here's the Times story (on page 21 if you have a hard copy or you're using their website with the excruciatingly long 21-letter domain name):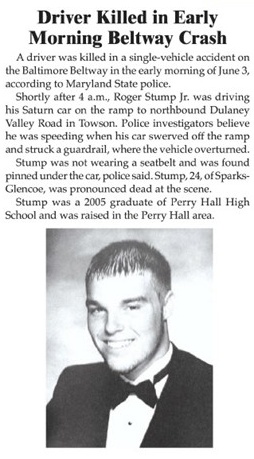 Compare the copy above to the copy in this Patch story by Tyler Waldman and then compare the picture above to the picture in this Patch story by Waldman and Emily Kimball.
A source familiar with the Patch photo tells us it was a picture taken of a yearbook photo before being cropped and adjusted by a Patch reporter. It does bear a striking similarity to the photo in the Times' story.
It's not the first time the Times has been plagued with plagiarism accusations. Several years ago the Times was accused of lifting a story from The Dundalk Eagle about a fire station being built in Dundalk. The Times wrote an apology and chalked it up as being "inadvertent" due to a reporter not listing other sources in her notes. However, a story in the Avenue News reported that the material lifted from the Eagle story was obtained in private interviews with fire department officials by the Eagle reporter.
The East County Times is an independent publication with a weekly circulation of 45,000. George Wilbanks is their publisher.