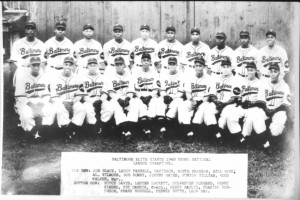 From the Pratt Library Press Release:
The Enoch Pratt Free Library presents "Pride
and Passion: The African-American Baseball Experience," a
national traveling exhibition which chronicles the remarkable
history of baseball's Negro leagues and the challenges and
successes of African-American baseballs players.
The exhibition runs from October 26 - December 9, 2011. There will be a special opening reception this Saturday, October 29, at 2 p.m.
There will be special presentations at the opening reception and throughout the exhibition. A poster about the exhibtion and more photographs can be found at the bottom of this post. Thanks to Roswell Encina of the Pratt Central Library for assistance with the images and other information.
More from the release:
Opening program and reception: "If It Ain't Got That Swing: Black Baseball and Music in the Jim Crow Era," Saturday, October 29, 2pm, Central Library Wheeler Auditorium. Meet and talk with former Negro league players and see their displays of various historical items and memorabilia. Presented by Dr. Lawrence D. Hogan, Union County College and Dr. Robert Cvornyek,Rhode Island College
Lesa Cline-Ransome and James Ransome talk about their children's book, Satchel Paige,
Monday, November 7, 10:30am, Central Library's Meyerhoff Children's Garden. For ages 4 to 8 and their parents.
Bob Luke, The Baltimore Elite Giants and The Most Famous Woman in Baseball: Effa Manley and the Negro Leagues, Thursday, November 10, 6:30am, Central Library Poe Room
Michelle Green talks about her children's book, A Strong Right Arm, The Story of Mamie "Peanut" Johnson, Tuesday, November 15, 11am, Central Library Meyerhoff Children's Garden
The event was organized by the National Baseball Hall of Fame and the American Library Association's Public Programs Office with grant funding from the National Endowment for the Humanities. There is also a permanent exhibition at the Baseball Hall of Fame in Cooperstown, N.Y.
1 Comment
1

This looks awesome!

Comment by scottcarberry — October 25, 2011 @ 10:51 pm
RSS feed for comments on this post. TrackBack URL
Leave a comment