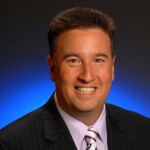 Apparently, Jamie Costello of WMAR has a lot of fans online.
Originally, I blogged about reports that Costello was leaving the morning anchor job to go to evenings and Charles Crowson was coming to town from Arkansas to take over the morning job.
This was later confirmed by a DCRTV report that I blogged about. Since then, there have been numerous comments on that post decrying the changes.
One commenter said, "Jamie Costello is the only reason I continue to watch WMAR TV at all."
That same commenter went on to say, "Jamie, with his unique personality and ability to get along with everyone, will be sorely missed in the morning. I hope viewers will be able to continue seeing him at times other than just 11:00 pm."
Another comment: "Jamie Costello and Megan Pringles are the best, I would love to see Jamie in the morning again with Megan is a great way to wake up with two wonderful people like these two."
Other commenters seem to indicate Costello wasn't happy about the move, but provide no proof of this. All of the commenters in general seem to want Costello back on the morning news.
Click here to read the post with all the comments.
2 Comments
1

Jamie may have some supporters but the cruel reality of the broadcasting business is he's not the type to attract large numbers of the kind of viewers advertisers want to reach. It was a huge business mistake for WMAR's management to retain him and some others while axing many more effective communicators like say, Mary Beth Marsden. Just another error in WMAR management's conspicuously misguided path over the past couple decades. Perhaps Rudy Miller can help Jamie find greater success in an off-air job.

Comment by r — November 26, 2010 @ 6:37 pm

2

The new guy is awful in the morning. we don't watch anymore. Jaime was great in the morning

Comment by jack knight — November 29, 2010 @ 9:01 am
RSS feed for comments on this post. TrackBack URL
Leave a comment