The Baltimore City of Emergency Management joined Twitter today. When I first saw them via the #mdhashtag I noticed this tweet: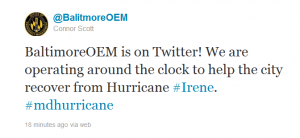 I found it interesting that they just now start sending out Hurricane Irene tweets during the aftermath when a Twitter account takes little time to set up. I would have thought they would've had an account long before now - it looks like they were just reacting to all the other Twitter successes this weekend from various state and local agencies and decided, "We better get on Twitter."
I sent out a tweet about their account and referenced it as @BaltimoreOEM without noticing they are actually @BalitmoreOEM. They made a big typo in setting their handle up. The information on the account says it is being run by Connor Scott in the OEM office:

They have since made a tweet in apparent response to our first tweet, and it basically says better late than never. However, if you're going to be this late to the game, you might want to make sure you actually spell your city's name right in the Twitter handle setup.
UPDATE: They have now changed it to @BaltimoreOEM. We knew they would - that's why we have the above screen capture.
UPDATE 2: They also took Connor Scott's name off the account and set the name to MOEM.