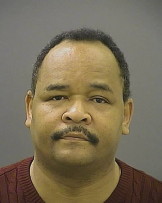 Baltimore City police arrested Dennis Edwards, a former spokesman for City Council President Bernard "Jack" Young and a WJZ-TV reporter, on charges of second-degree assault and reckless endangerment on Wednesday.

According to police, a patrol unit was dispatched to Edwards' home at 2:15 p.m. Wednesday. His wife told police that the couple had been in an argument.

Detective Jeremy Silbert, a police spokesman, said she told police Edwards shoved her to the floor and began banging her head against the floor.

The officer arrested Dennis Edwards, and his wife was taken to an area hospital with bruising.

According to court records, a domestic violence court order was also issued instructing Edwards to temporarily vacate his home and stay away from his wife Lisa Edwards.

[...]

The blog insidecharmcity.com alerted North Baltimore Patch to Dennis Edwards' arrest.
As their story said, I did tip Patch off to this story after some interesting occurrences yesterday led me to believe the arrest had taken place. I will have more on that in a later post.
Previously:
WJZ fires Dennis Edwards
Other coverage: